What is a Palm Oil Refinery?
What is a Palm Oil Refinery? As the name suggests, it is an Oil Refinery meant especially for Edible Oils. This means that the crude palm oil must be processed with palm oil refinery plant. After refining, the flavor, color and smell of edible oil is improved, the stability is improved which is good for long time storage, the smoke point of oil is increased.
Edible Oil Refinery and Edible Oil Refining have been the areas of excellence for Henan Doing Company. We are based in China and since 1976 we have been the Basic Designers, Manufacturers and Exporters of complete Edible Oil Refinery Plants to convert the crude oils into pure RBD oils.
Small scale palm oil refinery plant
Basics of Palm Oil Refinery:
Crude Oils & Fats that are obtained after mechanical expelling or solvent extraction process contain several unwanted items in them. All of these must be either fully removed or partially reduced before human consumption. An Edible Oil Refinery removes these unwanted constituents and it can refine almost all types of oils. The refined oil quality depends on the type of crude oil and its chemical structure.
Let us get some more idea by understanding the components of the edible oil refinery plant, palm oil refinery plant.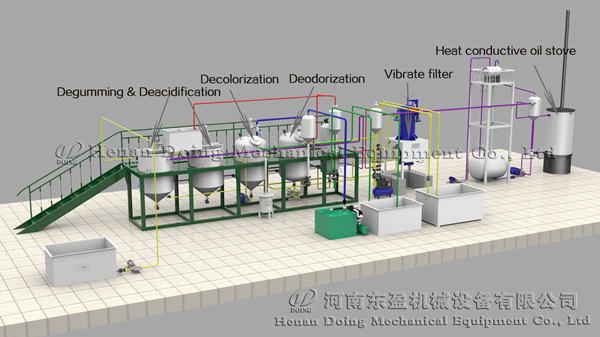 The above photo shows the complete palm oil refinery plant of 2-Ton capacity erected at our Henan Doing Company.
Main equipment of 2 Tons per day palm oil refinery plant as follows:
refinining pot, Decolorization pot, Deodorization pot, Vacuum pump, Air compressor, Steam generator, heat conducting oil boiler, and so on. Description of Edible Oil Refinery Process
For refining the crude palm oil, there are four basic processes in the refinery.
Palm oil degumming process is the firdt step in palm oil refinery process, the gumming is removed by phosphoric acid and hot water.
There are two ways to remove the acid in crude oil. One is chemical way, the other one is physical way. In small scale palm oil refinery plant, the chemical way is used. It mainly use NaOH to react with acid.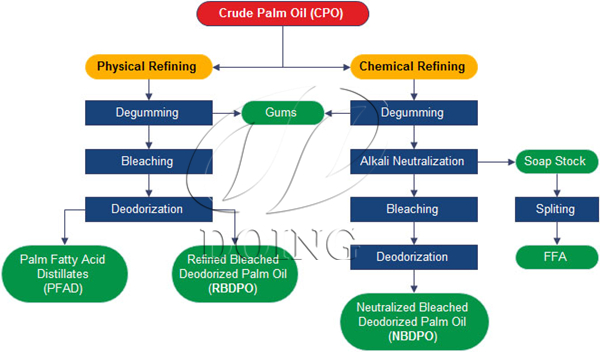 Chemical refining and physical refining of palm oil
The purpose of decolorization step in small scale palm oil refinery process is to remove color pigments contained in oils. It mainly use white soil adsorption decolorization methord.
The function of this step is to remove disagreeable flavor and odors that are naturally present or created during processing under high temperature. Deodorization tank is a stainless steel sealed container, including heating coil and central steam jet circulating pipe.
Arrangement of palm oil refinery plant: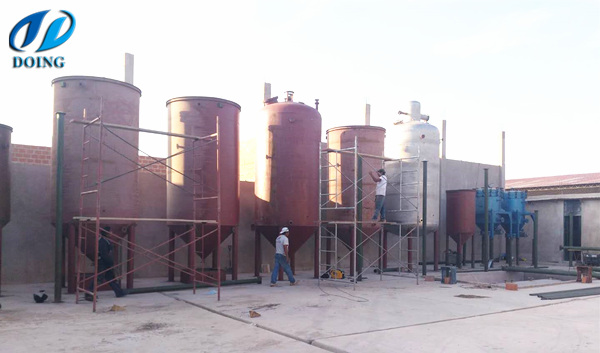 Palm oil refinery plant installation site
The arrangement of palm oil refinery plant will vary according to its design and capacity. But to get a generalized idea, let us understand the arrangement of the 2 Tons Per Day Refinery Plant.
(1)The main refining vessels i.e. refining pot, decolorization pot and deodorization pot are properly arranged on the first floor of the steel structure. These vessels are hanging on the steel structure. The soap pans are placed directly under both the neutralizers to collect the soap stock.
(2)All equipments are connected and rested with the Pre-Fabricated Steel Structure. The size of structure is custom depending on the number of equipments chosen. First floor is 10 Feet above the ground level. The steel columns support the entire steel structure. Staircase, Railings, Support Beams etc. are part of the pre-fab structure.
(3)The filtration equipments are arranged in the open space on the first floor along with the main vessels. The intermediate oil tanks such as Crude Oil Tank and Bleach Oil Tank are accommodated under the structure on the ground floor.
(4)The Heat Exchanger Cum Cooler is arranged on the ground floor along with other important equipments such as Thermic Boiler, Steam Generators, Vacuum Pump, Process Pumps Electrical Panels, Refined Oil Tank etc.
(5)The pipelines are interconnected with the equipments within the palm oil refinery plant. Pipe Fittings, Valves, Flanges, Gauges, Accessories etc. are installed and fitted at their respective places.
Henan Doing Mechanical Equipment Co.,Ltd is the professional manufactures and supplies unique edible oil refinery with complete unique construction. Our palm oil refinery plants are specifically designed to give the minimum operation costs and maximum output results.
Leave A Message About What is a Palm Oil Refinery?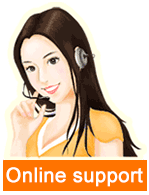 Leave a message

Tel/Whatsapp:8613526627860