Dry fractionation plant of palm kernel oil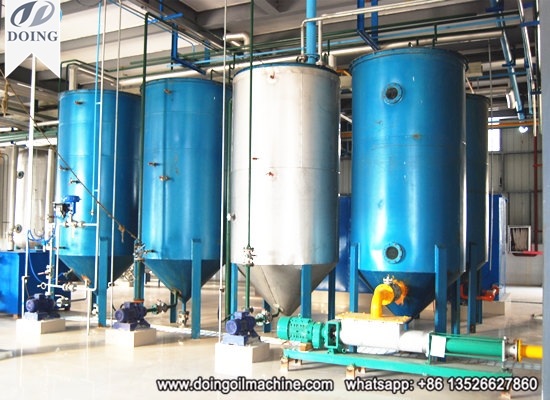 Factory direct sale contact number
Dry Fractionation Plant of Palm Kernel Oil Process Description:
Dry Fractionation is a process to separate vegetable oils such as palm kernel oil into two fractions, Olein and Stearin, by the crystallization properties of the oils. A typical dry fractionation plant consists of Crystallization Section and Filtration Section.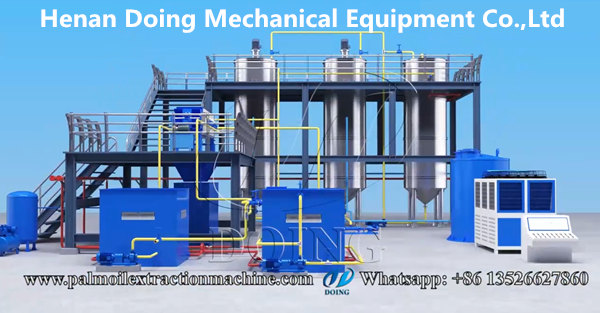 Dry fractionation plant of palm kernel oil
Crystallization Section: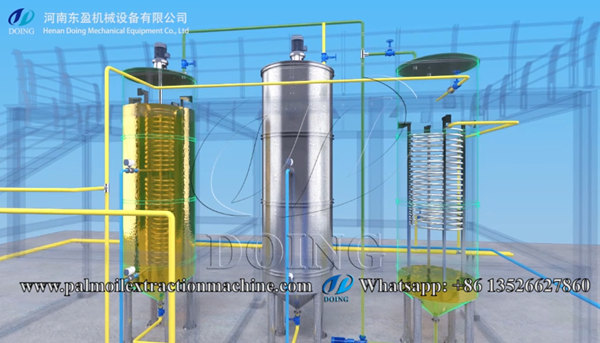 Palm kernel oil fractionation plant ---

Crystallization Section
Preheated RBD palm kernel oil is fed into the crystallizers and then cooled in a controlled environment to form crystals. The cooling sequence follows a defined program using PLC or programmable controllers. The slurry of crystals and oil is then pumped to the fractionation filter for separation of the solid crystals from the oil.

Filtration Section: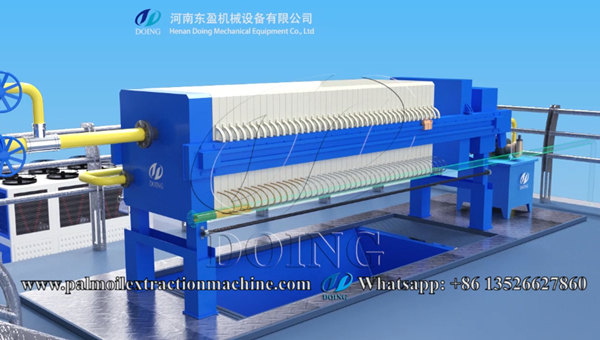 Palm kernel oil fractionation plant---
filtration section
In the filtration section, an automated membrane filter press is usually used for filtration of oil slurry to separate the stearin crystals from the liquid olein. Stearin is retained as filter cake while olein passes through the filter as filtrate. Olein yield is maximized by squeezing the stearin cake through inflation of the membrane with air or liquid.



Dry fractionation process flow chart of palm kernel oil: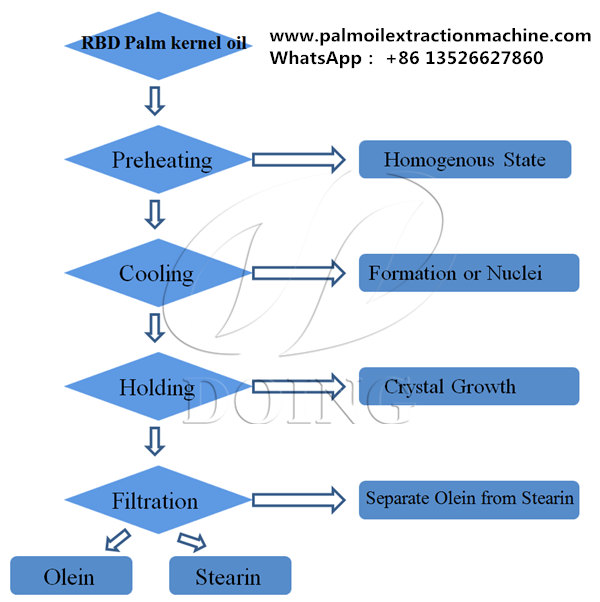 Palm kernel oil fractionation process flow chart
Features of Dry fractionation plant:
At the heart of the dry fractionation process is the industry-standard crystallizers. The crystallizer is designed to provide optimal heat transfer efficiency and thermal homogeneity within the oil while maintaining minimal disturbance to crystal growth.
These crystallizers, together with Henan Doing Company's experience and extensive database of cooling programs, can be tailored to produce different highly filterable crystals to suit various customer-specific fractionation requirements. Combined with vast in-depth knowledge of filter press performance, Henan Doing Company is able to provide specific fractionation solution meeting customers' requests.

Dry fractionation plant photos:
Palm kernel oil fractionation plant
Dry fractionation plant of palm kernel oil application:
Palm kernel oil fractionation technology adopts advanced palm kernel oil processing technology of controlled cooling, crystallization, filtration and separation technology, obtaining palm kernel oil with different melting points, like 33℃, 24℃, 18℃, 14 ℃,12℃,10℃,8℃,etc. This featured palm kernel oil fractionation machine with fully computerized automation is featured by low investment, high liquid oil yield, high purity of solid fat, high profit etc.

We will choose the fractionation methods according to the different requirements of different types of oil. Both technical and economic effects are taken into account while plan the palm kernel oil fractionation plant, so that to build the best palm kernel oil fractionation plant.
Leave A Message About Dry fractionation plant of palm kernel oil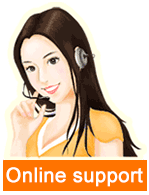 Leave a message

Tel/Whatsapp:8613526627860