What's crude palm oil? What's refined palm oil?
Crude palm oil is a vegetable oils which directly obtained by mechanical pressing. Crude palm oil also named CPO, it is mainly extracted from the pulp of fruit of oil palms. The color of pulp is red. That's why crude palm oil is naturally similar to pulp color because of high inactive vitamin A content. It is different from kernel oil or coconut oil. Commonly it is combined or mixed with coconut oil to make highly saturated vegetable fat, which is also used for cooking purposes.

Crude palm oil and RBD palm oil
Refined palm oil also named RBD palm oil, RBD palm oil is obtained from refining crude palm oil. It is a light yellow liquid and semi-solid at room temperature, melting to a clear yellow liquid on slight heating. RBD palm oil is used as frying oil for food industries such as instant noodles and snack food.
The most important and intrinsic purpose of palm oil refining is to produce edible oil which can reach standard oil. There are lots of visible, invisible and harmful impurities in the crude palm oil(red palm oil), such as Moisture, Solids (Insolubles), Gums (Lecithins), Free-Fatty Acids (FFA), and other metals. These impurities must be removed to improve the functionality of the oils. Other characteristics of oils (such as color, odor, and taste) are also considered impurities by modern consumers. It will effect oil storage stability, oil color and oil flavor. But all these impurities can be removed in palm oil refinery plant through a series of steps, such as degumming (to remove gums), neutralizing (to remove FFA), bleaching (to remove color), deodorizing (to remove odor and taste), Finally you will get standard bright color, good flavor cooking and edible oil. (Related post: How does the palm oil refinery plant work?)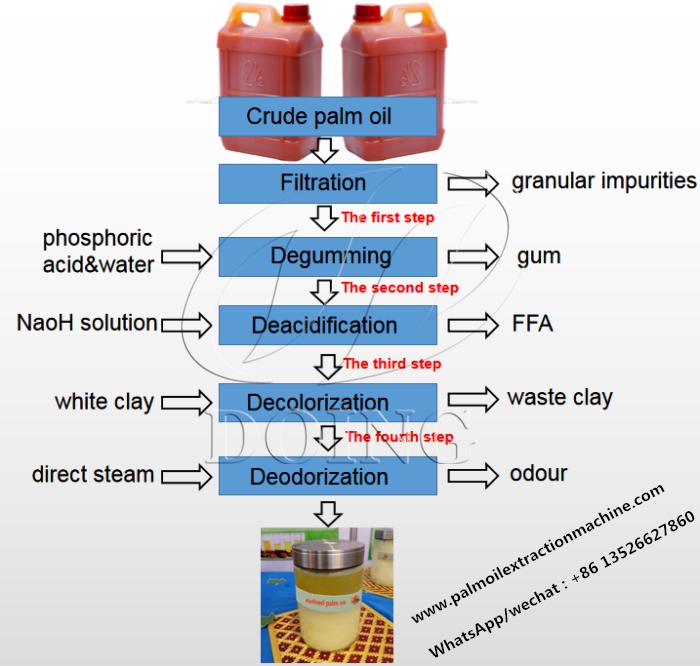 From crude palm oil to refined palm oil need to through the above refining process
Henan Doing Machinery is the specialist in designing and manufacturing palm oil refinery plant that can refine crude oil for edible or other purposes. Till now, we have successfully installed many palm oil refinery plant projects in different countries, such as Indonesia 5tpd semi-continuous palm oil refinery plant, Nigeria 5tpd batch type palm oil refinery plant, Congo 30tpd semi-continuous palm oil refinery plant, Peru 20tpd batch type palm oil refinery plant, Kenya 100tpd palm oil refinery plant and so on. Almost all our clients spoken highly of the palm oil refinery plant we designed and built. If you also want to step into palm oil refining industry and want to get more detailed parameters, welcome to contact us.
Leave A Message About What's crude palm oil? What's refined palm oil?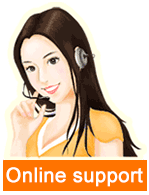 Leave a message

Tel/Whatsapp:8613526627860